I have been in a creative rut lately.  Maybe because I am extremely overwhelmed with the girls going back to school, driving them all to and from their numerous after school activities, and shooting/editing photo sessions!  Of course I'm extremely grateful for all of my clients and being so busy, but it's hard not to feel burnt out sometimes! When I feel this way, I like to try something new to get my creative juices flowing. So what did I do?  Bought a new toy!!  A brand new Sigma 15mm F2.8 Diagonal Fisheye.  My husband was thrilled (<—- enter sarcastic eye roll here).  I've actually had my eye on a fisheye for a while because I love how beach images look with them.  So I finally took the plunge and decided to purchase one to bring to Disney World with us for Labor Day weekend.  To get out of my rut, I personally challenged myself to shoot ONLY with this lens for the entire weekend.  Plus, that helped conserve some space on the bottom of our stroller!
Here are some things I learned along the way:
The creative edge (see what I did there?) it gives to images is AWESOME!  I really tried to play around with different angles all around the park.  There is one image I took while we were walking down Main Street that completely gives a different perspective of the hustle bustle of it.  I wouldn't have been able to get that perspective without this lens.
Fisheye lenses are incredibly WIDE!  Ok, yes I'm Captain Obvious, but until you look through the viewfinder for the first time, you don't realize just how wide they are!  I was able to shoot the entire castle walls while not having to be far away at all.  This is especially helpful when you are surrounded by tons of people and you don't have to back up to capture the entire scene with a regular lens.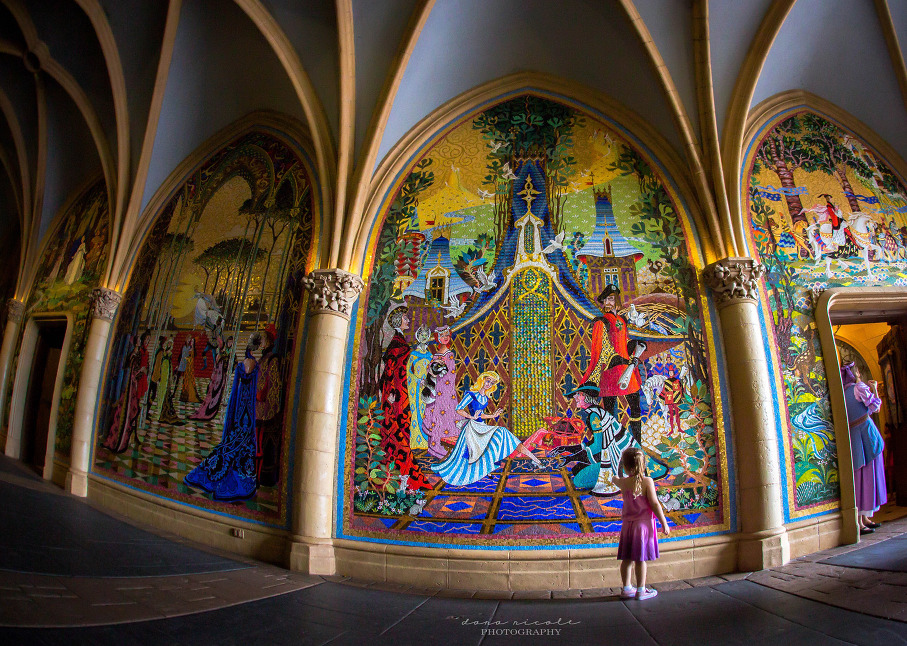 Skies look beautiful through fisheye lenses!  If you follow my work, then you will know that capturing colorful skies and clouds are kinda my jam so this is an added bonus for me.  The detail and color from this lens is just gorgeous and I was able to capture all of the white fluffy clouds and keep my subjects properly exposed without the sky being blown out.
So all in all, I am incredibly happy with this lens purchase and it definitely got me out of my creative rut. I am so excited to use it in some upcoming beach sessions, so stay tuned to see how those come out!  Let's hope (for my husband's sake) that I can keep my creative juices flowing for a while with this new toy!
Here are some more of my favorites from this weekend